Akne (ab 30) - Set 3tlg.
Art-Nr: 00005803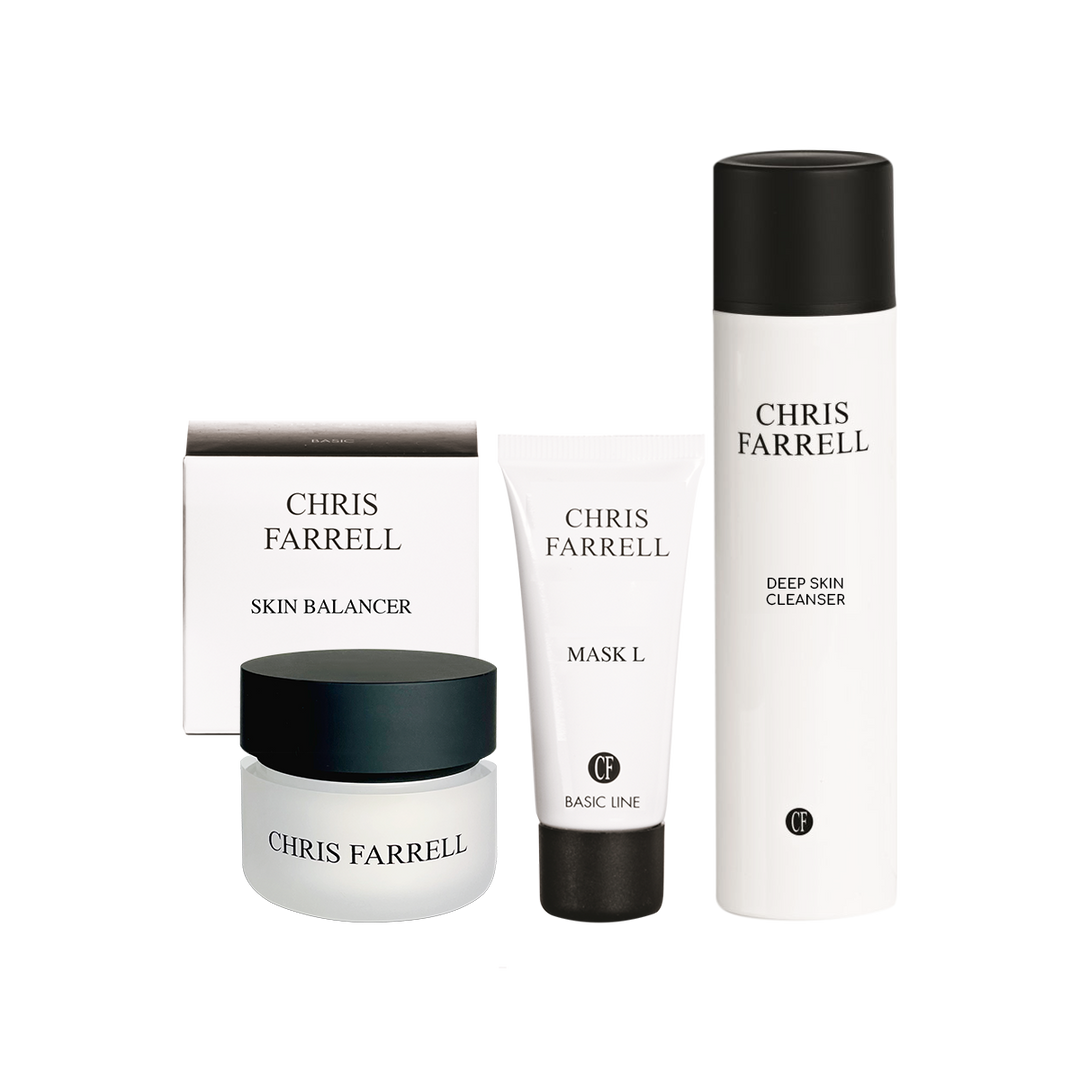 Akne (ab 30) - Set 3tlg.
Art-Nr: 00005803
✔ Rückgang von Rötungen
✔ Entzündungen werden minimiert
✔ Haut wird intensiv gereinigt
Regular price
€10450
€104,50
Sale price
€9900
€99,00
Versandkostenfrei ab 90€ (DE)
Bequemes Zahlen auf Rechnung
Tel. Beratung: +49 (7227) 507-0
In stock, ready to ship

Inventory on the way
BESCHREIBUNG:
Bei Akne ist die richtige Hautpflege entscheidend, da falsche Kosmetik die Symptome oft verschlimmert. CHRIS FARRELL Cosmetics bietet passende Kosmetik und eine detaillierte Hautanalyse an, um die Ursachen von Akne zu behandeln und die passenden Produkte zu empfehlen.
Akne ist eine häufige Hauterkrankung, besonders in der Pubertät. Hormonelle Veränderungen und eine erhöhte Talgproduktion sind dafür verantwortlich. Es gibt über 100 Formen von Akne, einige erfordern spezielle Therapien.
Eine ausgewogene Hautpflege ist wichtig, um die richtige Balance zu finden. Frauen mit leichter Akne empfinden dies oft als belastend. Dekorative Kosmetik überdeckt das Problem nur vorübergehend. CHRIS FARRELL Cosmetics bietet passende Kosmetik für alle Akneformen, die das Hautmilieu gesund erhält und entzündungshemmend wirkt.
Die Reinigung der Haut ist der Schlüssel zur vernünftigen Hautpflege. Peeling sollte nicht übermäßig angewendet werden. Mildes Reinigungsmittel und Gesichtswasser, die Feuchtigkeit spenden und rückfettend wirken, sind wichtig.
INHALT:
Deep Skin Cleanser ist eine milde und seifenfreie Reinigungsemulsion zur porentiefen Gesichts-Reinigung

Skin Balancer (für den Tag) Gesichtscreme ist eine nicht fettende Öl-in-Wasser-Emulsion für Tag und Nacht

Mask L (für die Nacht) ist eine hochwirksame Creme-Maske mit 3-Phasen Wirksamkeit gegen diverse Hautdefekte
ZUSATZPFLEGE:
ANWENDUNG:
Beginne mit dem Cleanser. Gebe eine Haselnussgröße von in Deine angefeuchtete Hand. Emulgiere es auf das Gesicht, Hals und Dekolleté und massiere es sanft ein. Anschließend mit Wasser wieder gründlich abwaschen

Skin Balancer in Erbsengröße auf das Gesicht verteilen

Für die Nacht Mask L auf das komplette Gesicht auftragen und verbleibt auf der Haut